Perhaps my co-worker (whose advice opens the initial post) said "Go to a small town north of Puerto Vallarta … " because that direction fits my taste better than did Puerto Vallarta.
I left my truly nice room in the Hotel del Mar Tradicional, PV, where the your-room-is-now-made-up swan sits on the bed:
The first bus (city, 6 pesos) goes to Wal*Mart (a central bus stop in PV), where the second bus (regional, 30 pesos) starts toward Sayulita.
The following map (larger version in a photo post) includes three points:
the place the bus turns off of Highway 200 and lets you off (very close to town, on Revolution Avenue)
a highway (not marked well, but headed toward Punta de Mita); it isn't very busy, and it could allow a long run (I turned around at the 8 km sign)
a hike I took with my friend Howard, not knowing where I was leading him, although it turned out well: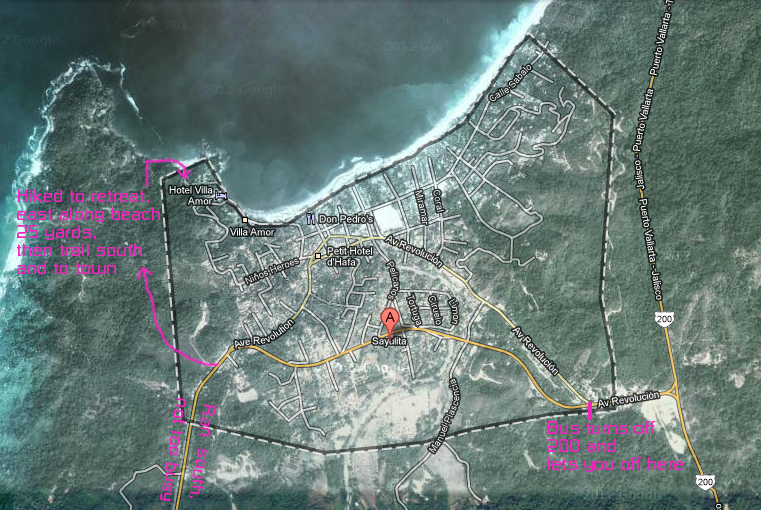 My first night was at The Amazing Hostel Sayulita, which was great, and—for those of you who like this kind of thing—had a climbing wall in the back by the pool.
However, I knew my days were numbered (to one, precisely) because the hostel had a cash-only requirement, and I was down to 500 pesos (~$55), wanting to hold onto most of that for food.
So I was forced to upgrade to the Villas Sayulita:
This place provided a perfect porch—a portico—along with a kitchen (and coffee maker), encouraging me to read and write this brief and tedious piece, as well as a review of Why We Run.
Flying over a thousand miles to read and write, of course, made me wonder why I wasn't spending more time at the beach, but I went with the peace.
The fellow who ran the desk at the hotel was very helpful, getting me everything I asked for until we encountered a linguistic breakdown. I ask for "a spatula and a sharp knife," (in English). He looked a little puzzled, but faithfully showed up at my door an hour later with a putty knife, which does also share the shape of a spatula:
This was an instance where the moral thing was to lie, knowing that any further attempts to communicate would undo the social bond we had established. I thanked him, held onto it for a couple of hours, and then returned it, letting him know it worked very well.
This was a very pleasant place. Of course, I slept with the windows open to bring in the cool night breeze, which unfortunately, every morning at 5 AM, brought in a rooster's wake-up call.

Swimming
After settling into the Villas Sayulita, I went down to the beach, which is an 80-meter distance, according to the hotel description on the internet.
The beach, in a hand-stitched panoramic view:

The water was beautiful, and much warmer than I require. With my goggles, I went beyond the surf to swim, alternating between the breast stroke and freestyle, doing much more swimming mentally than physically. There was one other woman in the water, and I like to think we had a tacit agreement to keep an eye on each other in case one of us went under.
At this distance from shore, there was no way to touch the bottom, and the waves constantly blocked any line of sight to shore. So I imagined that if I somehow breathed in water or was grabbed by a giant squid or otherwise damaged by rusty cables from a sunken fishing boat that I would, yes, die. Worse, though, I would die, unnoticed. What would be lonelier than becoming that drop of water absorbed permanently into the ocean, without much more than a parting whimper?
After about fifteen minutes, the woman left the water, along with the only people on shore, and I enjoyed swimming so little that the activity soon ended.
Visit from Howard
Howard, a faithful friend, who lives near me in Colorado, was also staying in Puerto Vallarta, and kindly took a bus to visit me:
Skip hike description and go to "Bad Day to Swim" account.
First we went on a walk. He allowed me to lead. The bay faces north. The western end of the bay is rocks and cliffs, not allowing a person to walk along the shore, where it winds to the south (and downward toward Punta de Mita and on to Puerto Vallarta). Accordingly, I took us inland, heading south, with the hope that we could climb a large hill, cut west to the ocean, and weave our way back to town in a clockwise motion (see map above).
We walked to the place where Revolution Avenue meets the highway to Punta de Mita (see sign to Haramara Retreat).
The dirt road was promising for a hike:
But when it turned to cobblestone, Howard began to have misgivings that we would be boxed in by private property:
When we neared the ocean, we were quite far above it. We thought we might find a high precipice that could not be descended.
Instead we started to descend the cobblestone and found ourselves at a high-end retreat (with spas, mediation rooms, and other amenities). Following the advice of one helpful person, we just walked through the labyrinth of outdoor stairs and passageways, until we reached the beach, which was raked (like a sand trap):
No one noticed us (just as no one noticed Howard, a few days earlier, when he went to the beachfront bar at his hotel, ordered a margarita that was paid for by virtue of his residence at the hotel, and then, as he polished off the drink and walked away, realized that it wasn't even his hotel—with no repercussions).
Emerging from the high-end retreat, we began heading up the coast a little ways:
We crossed an outcropping of rocks,
and found a trail that a helpful person told us would be there:
Coming from the opposite direction would be this sign, notifying you of the beach to which you were descending:
From that point on, it was an enjoyable walk back toward town:
We emerged on "N. Heroes"
which heroes surely joined of the revolution (1910-1920), just as the road did:
As mentioned above, Howard had doubted we'd be able to find our way through the private property. But he wasn't with me on my "The Restaurant at The End of the—Trail" hike, where the trail had taken me through many pieces of private land, porches, sidewalks, and front yards. Howard (an Englishman) claims that in France the property owners would be much more protective, having barred our way.
A handful of photos complements the ones I took on that hike with Howard.
Sayulita – dwellings, beach, & dogs with coconut.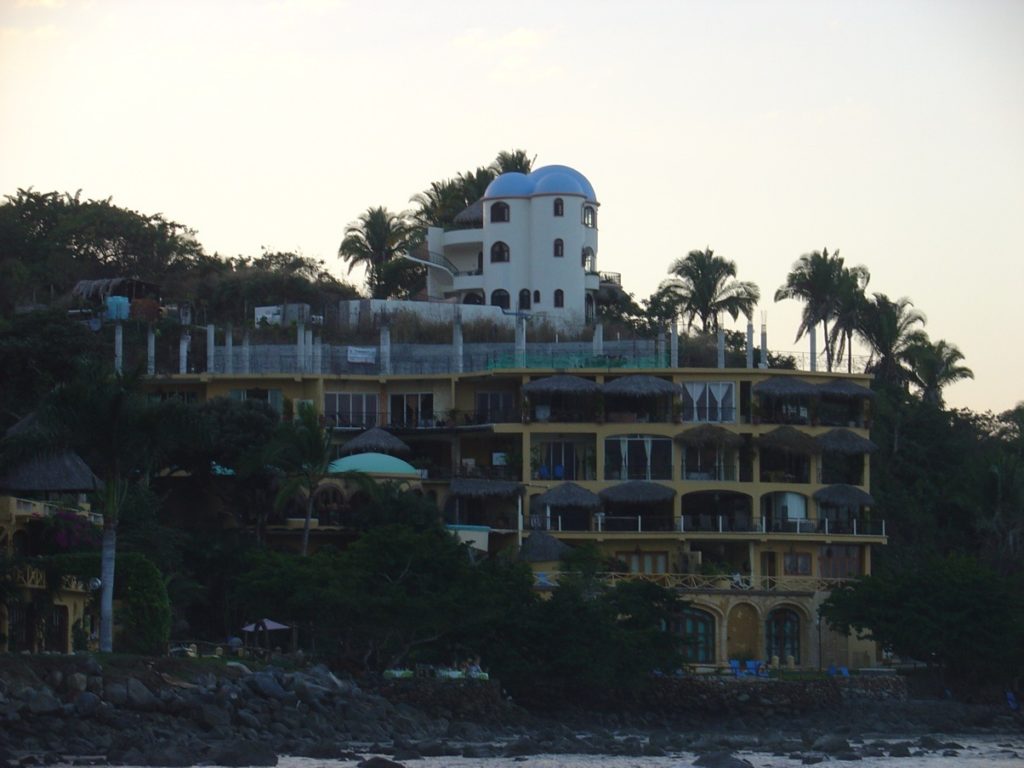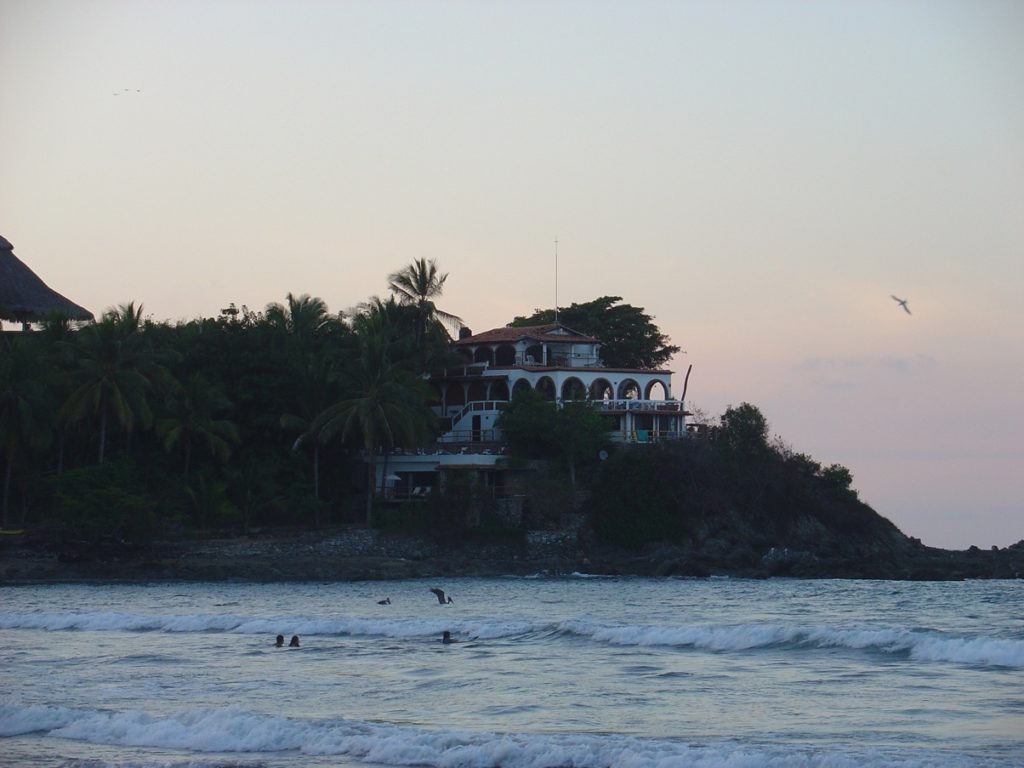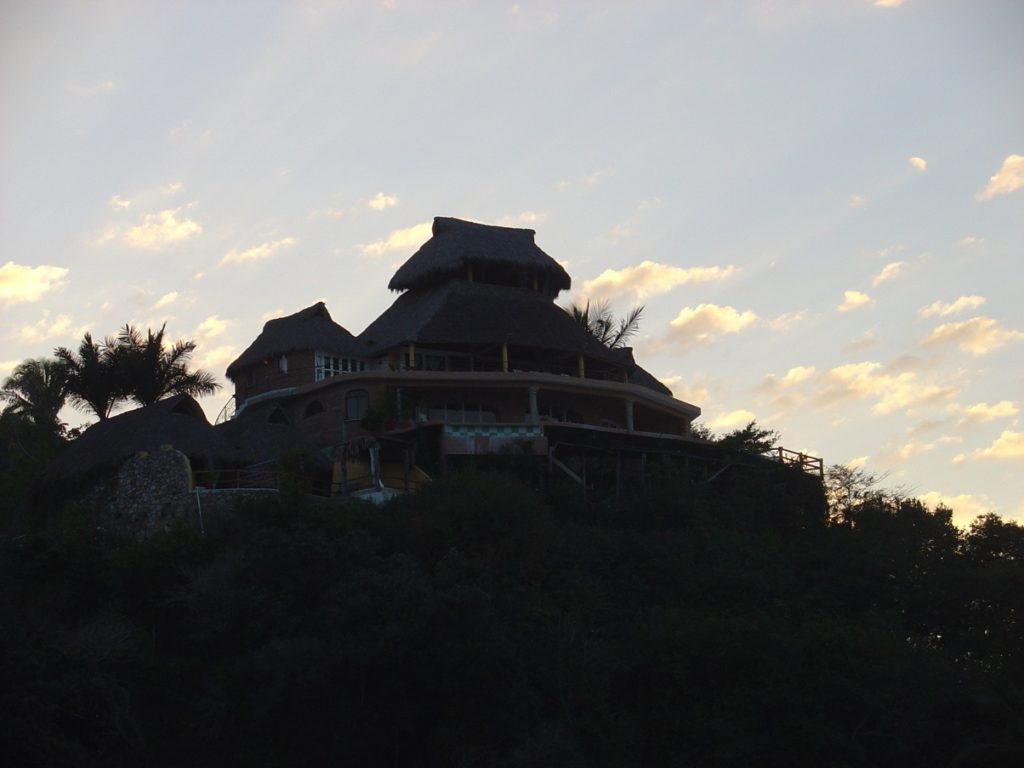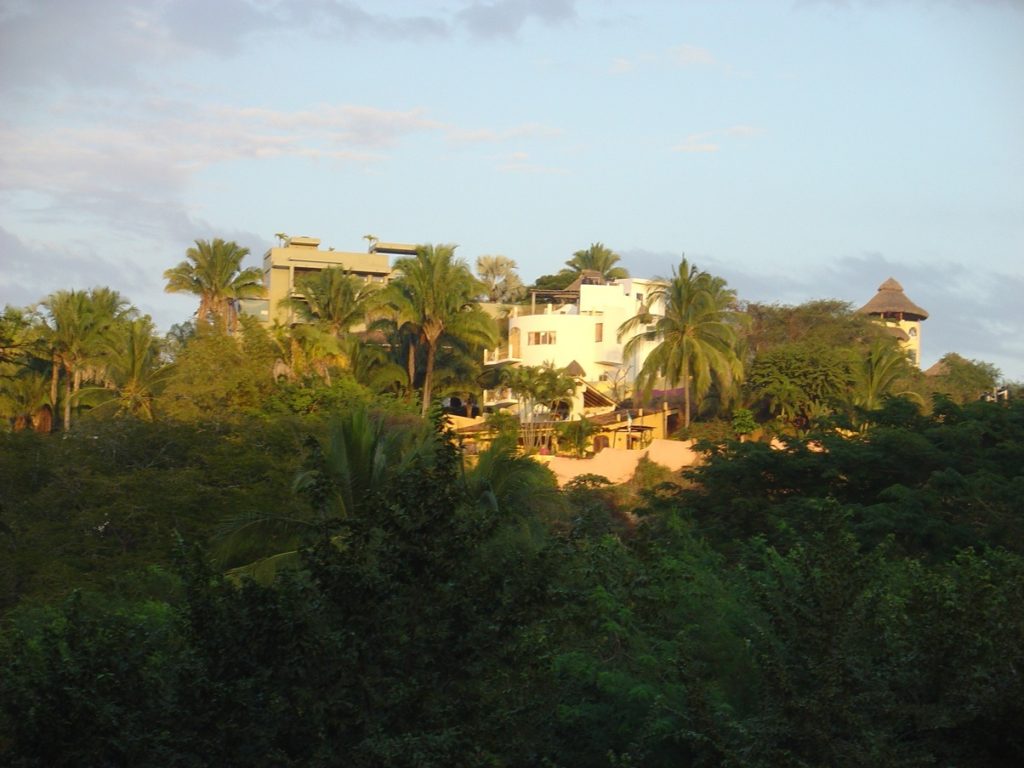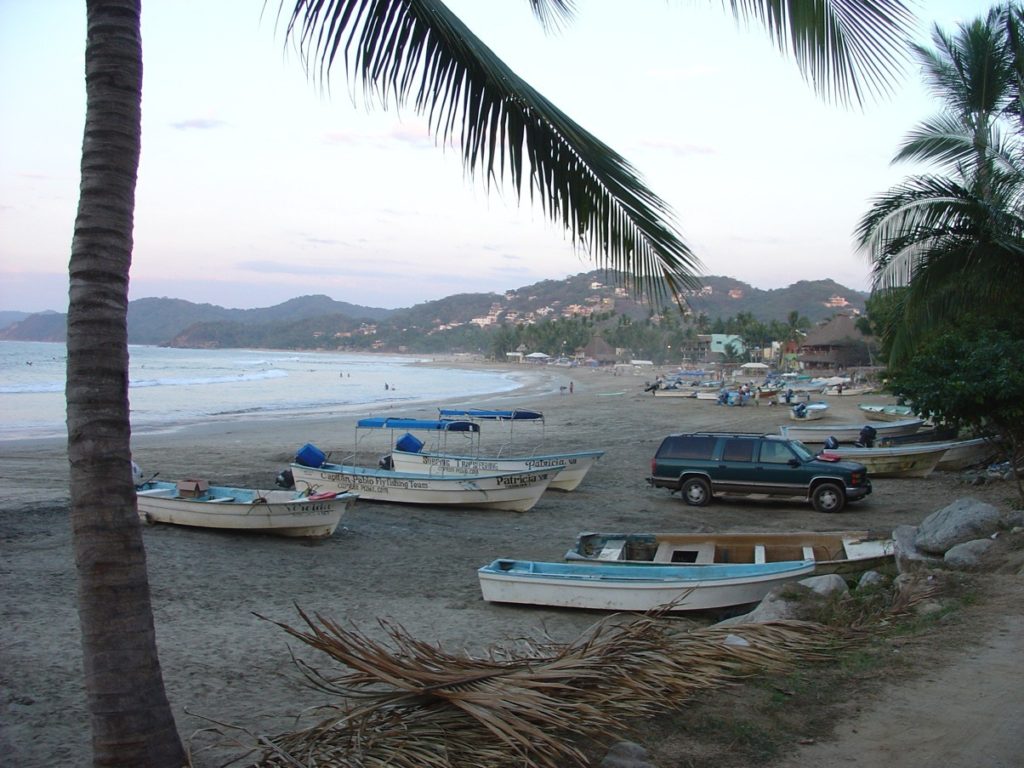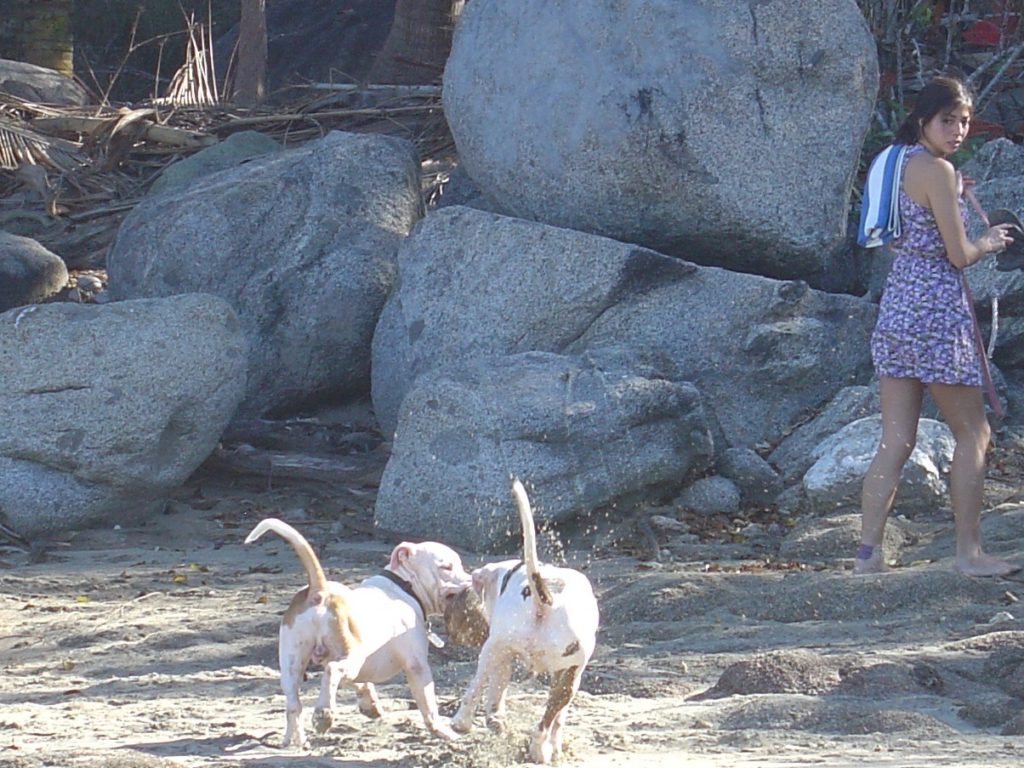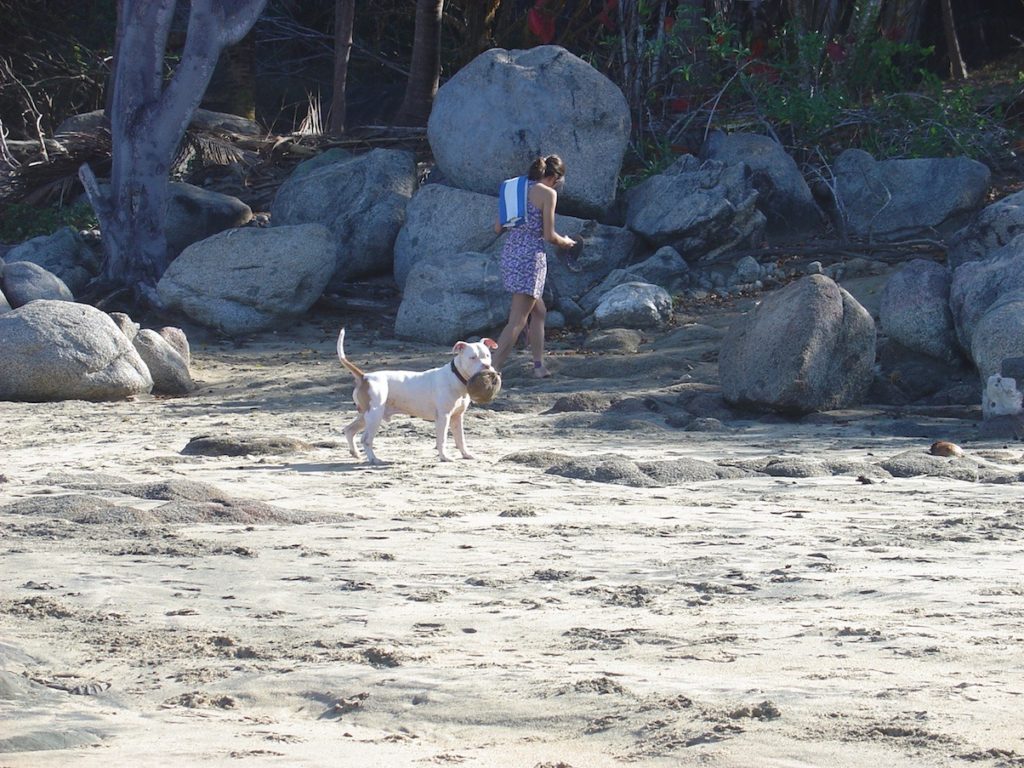 Bad Day to Swim
After the hike, we changed into our swimming shorts and walked to the beach.
Back in Puerto Vallarta, I had been warned that Banderas Bay had a strong undertow. While Sayulita is a bit north of Banderas Bay, the undertow seemed indifferent to that boundary.
Just as Howard and I arrived at the beach, we saw three people out in the water, one with a floatation belt (for life saving), one with a surf board, and one with a lot of determination. The individual with the floatation belt had been unable to return to shore, so the other two had gone to help him in.
They were about 30 feet from shore, but then, within a few seconds, they were all about 40 or 50 feet from shore, being pulled strongly by the receding water.
Then a fourth person joined. They were all struggling hard to keep from losing their proximity to land, finding themselves in a place where the successive waves allowed little time to do more than stay afloat. Soon, it looked as though one of the rescuers was having a hard time staying up, so much so that a fifth joined them.
After a few minutes the initial victim (of the undertow) finally made it to shore, as well as two other rescuers. The fellow on the surfboard stayed out with the remaining swimmer, who was still struggling to make any forward progress. After several minutes, they made it ashore, where Howard and I remained firmly planted throughout the ordeal, no matter how strong our inclination was to show these people how we approach these problems in Colorado.
Bad Night to Swim
Skip to "Louis vs. U.S. Customs"
My last night I walked on the beach, with the last bit of twilight illuminating the waves. I saw something floating in the waves, but was not sure what it was. At first I thought it a person, but there was no visible body, even when the water level went down it remained only a floating head. So I began to think it a coconut, which are pretty big down here with their outer shell. But it seemed to have motion of its own, independent of the water, making me think it was something like a dolphin. The light was fading quickly. Then the Floating Thing stood up. I actually expected to see fins, even while thinking, "This cannot be." Just then low Mexican voice behind me said, "Scared you, huh?" I guess I had started abruptly, and this man who also had been watching, noticed my reaction. Little did he know precisely what thoughts had made me start. The wily swimmer walked to shore and out of the ocean, having given one more visitor a near heart attack.
Back, Back in the USofA
While in Puerto Vallarta I ended up buying a small box of Cuban cigars to give to a couple of friends who value these rarities. After buying them, another vendor tried to sell me some. I said, "I already bought some." He said, let me see them, so I showed him the box. "They are genuine," he said.
So, the proud owner of Cuban cigars I had no wish to smoke, I arrived at U.S. Customs last night at Denver International Airport. When I was asked to declare my declarables, I first asked about some coffee beans. The man smiled and said, "Ok. How about tobacco?," and signed my document. To that question I replied, "five cigars." He looked up, and asked, "What kind?" Being on a truth telling binge lately, I said, rather proudly, "Cuban cigars."
He scratched out is signature with red ink and moved me on. My next stop ( the EXIT), I showed the document to the guard and she redirected me to the special inspector. This woman asked about the cigars, and I gave the same answer, thinking by this point that the embargo on Cuba was still in full effect in spite of the small quantity. She asked how much I had paid for them, and when I told her, asked me to show them to her.
It took considerable unpacking to retrieve them because I had cushioned them in the middle of my back pack. Finally, I pulled them out, and she said, "Those are not genuine." But I protest that they had bona fide labels. She said, "no your label is yellow, but we"—and here she held up a board with all the contraband labels of cigars taped to it—"know the label should be red."
So I picked up my cigars, whose authenticity is strongly debated between the borders, and left, thinking that Customs is an exciting way to end a trip.
What I Would Do Differently on a Trip Like This
Bring someone who wanted to swim with me, both to offset my inertia and to at least witness my exit, not that I'm planning on one so soon.