This post is about my first trip to Zacatitos; my second trip here and my third trip here.
Baja (lower) California is a peninsula comprised of two Mexican states, Baja California and the southern half, Baja California Sur. I spent a week at the southern end, a bit to the east of the Southern Cape, the beginning of East Cape. The nearest city with an international airport is San José del Cabo (Saint Joseph of the Cape).
"California," according to a 16th century tale, obtained its name from the Muslim title, "caliphate." Allegedly, the peninsula (thought to be an island as late as the 18th century) was peopled by black women, led by Queen Calafia—a conundrum of geopolitical issues and etymologies teetering on fictional moorings.
Invited down by Don, a friend and a man to whom I am a "suegro" in the best sense of the word, I shared a nice home, staying in the guest room replete with an outdoor shower, which is ideal in an area with plenty of sunshine and sand.
The people I met, unlike the mythical inhabitants of the peninsula, were mostly Canadians, along with  some Coloradans, following a common migratory pattern. The dessert community, Los Zacatitos (the little grasses), sits adjacent to the Pacific. It is rustic in its own developed way—no stores, hotels, condos, or other developers' dreams. Only a local restaurant exists, Zac's, which I assume is named after the community—a place with microbrewery beer on tap and live music.
Homes hidden among the intimidating cacti (cardón and saguaro, not that I can distinguish between them), these houses looked similar to many northern New Mexico homes (adobe-like, although foam and concrete may be the main materials in Zacatitos). Water is trucked in. A variety of waste systems are used, some of them resulting in vegetable gardens.
Photograph below—from our casita, vultures starting their morning atop the cacti: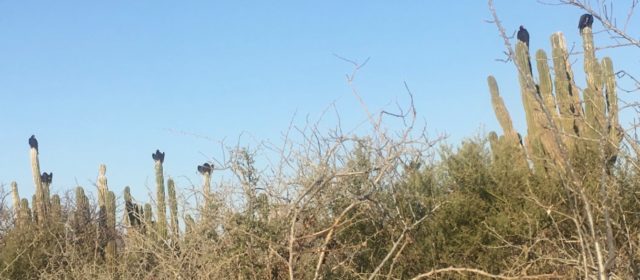 A memorial for Miguel who, I only guess, may have driven over the cliff; the memorial is lovingly provided with an unopened can of beer: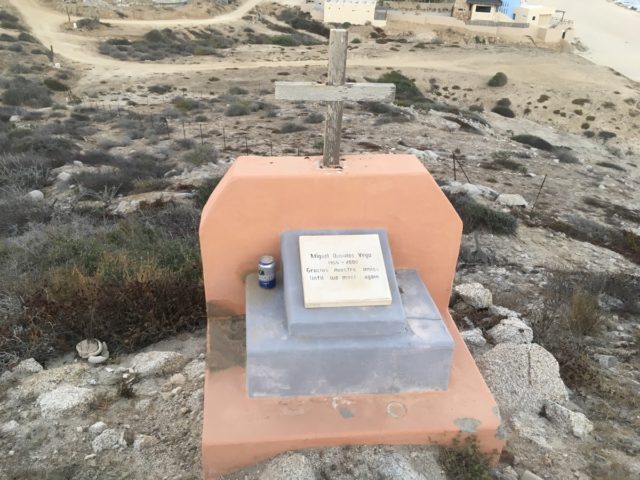 The Pacific Ocean remains nearly crystal clear, free from both algae and human pollution. This transparent water lends itself to incredible snorkeling at the natural reef (Cabo Pulmo), except for the fog that came in soon after we waded into the water.
A beach in Zacatitos.

The low-tide rocks leading to the natural reef, Cabo Pulmo: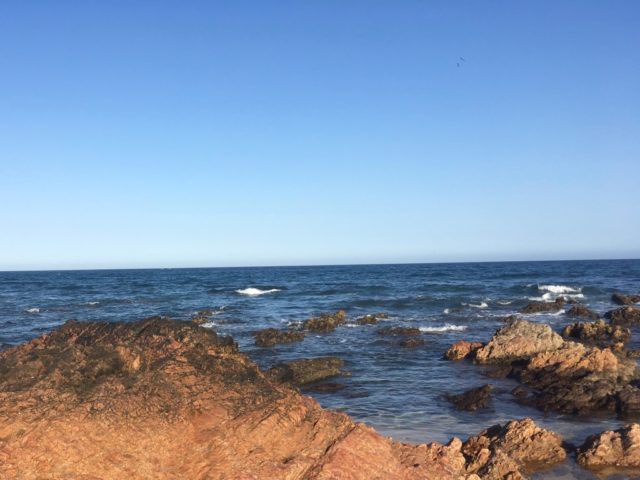 I told myself I'd keep this web log entry short, and so I do with a concluding paragraph, noting highlights such as when
we were shopping in San Jose del Cabo and witnessed a pickup truck back into a new car and promptly speed off, exiting through the entrance-ramp, no sooner gone than three policemen on foot materialized out of nowhere, investigating; or the night ride home from the reef
on the dirt road, one of the hinges on the rented SUV hood broke, slowing us down to a speed where the weight of the hood exerted more force than the wind
the donkey fell in love with Don and required an alarming rebuke before it stopped following him, or
it became clear my green shirt was brighter than Don's, causing some friction, since we momentarily forgot we were humans and thought we were peacocks.
Goodbye, donkey, with your crush on Don…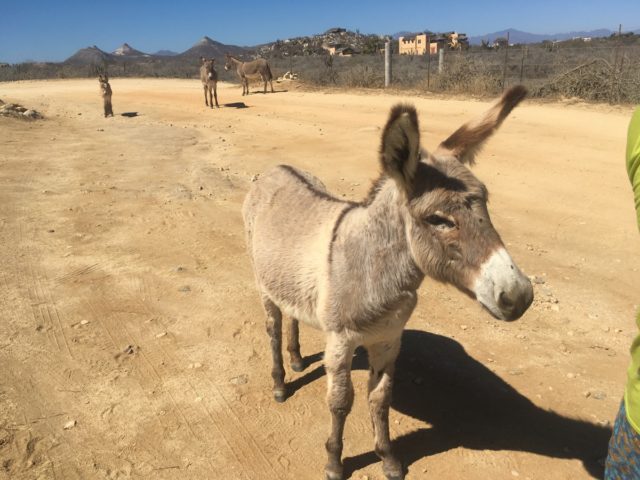 ¡Ándele!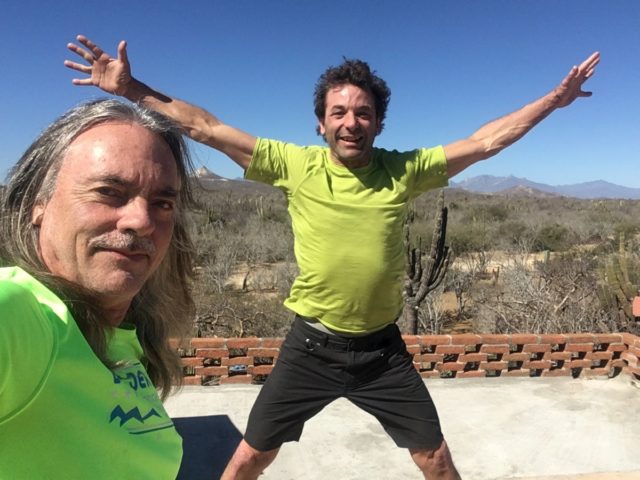 Don and I will do well to never forget the advice of the Lonely Planet 4th edition on the Baja when it comes to warding off time-share solicitors: "Mi abogado dice que no puedo hacer inversiones hasta no complir mi libertad condicional" ("My lawyer says no more investments until my parole is over"). Nor to forget the stars at night, so many, so bright, so slightly reconfigured that we felt we were in the southern hemisphere but were not.
Finally, here is a web page with some pretty nice PDF maps for downloading.